Valley Folk
Valley Folk is more than just a concert series...
it is a community of people sharing an interest in the preservation of traditional music and related arts. Listeners and musicians alike can find a comfortable place in volunteer activities, sharing music during a jam, or in a dish-to-pass supper before a concert.
Most concerts are held at 144 Cedar Street (corner of Cedar and First Streets, in the First United Methodist Church) in Corning, New York (click here for directions).
Saturday concerts begin at 7:30 pm and Sunday concerts begin at 2 pm, unless otherwise specified.
Jams
There is a self-running jam on concert nights beginning 90 minutes before concert time when we get in the building to set up for concerts. Bring your instrument and come jam with us!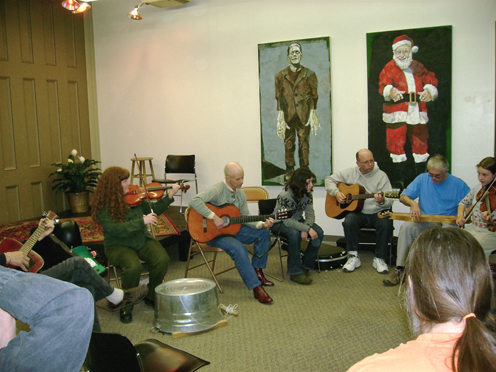 Jamming at the Carriage House
Behind the Scenes
Debra Chesman, Director
607-962-4461

Dan Lapp, Treasurer
David Ralph, Historian
Jim Harper, Jim Harper Designs, graphics & Web designer

Terry Kelleher, Sound
Susan Seltzer, Hospitality

Become a volunteer!
Please consider volunteering to help during concerts or behind the scenes. Contact Debra Chesman: 607-962-4461,
Current volunteer opportunities include:
Promotion
We need your help to promote Valley Folk concerts. Examples include on-line calendar listings, getting our concerts listed in newsletters with which you have an affiliation and hanging posters in public spaces. Most of all, we need you to invite friends and neighbors to concerts – word of mouth is the best form of advertisement.
Feeding Your Favorite Folk
Show your favorite performers your appreciation (and get personal time with them!) by volunteering to provide them dinner before the performance.
Providing Baked Goods
Sign up to provide baked goods for the concerts. We appreciate them at intermission with our warm beverages.
Hosting
Volunteer to host your favorite performers overnight after the concert. If you have a bed or two in an under-utilized bedroom (perhaps it's now a home office with a spare bed or the room your kids used before they went to college?), and can provide a simple breakfast, please volunteer.
We occasionally get requests from musicians with allergies for homes without furry pets, so if that describes you, we would be especially pleased if you would consider volunteering your spare bedroom once or twice a year.
Thank you...
These concerts are made possible, in part, by a grant from the NY State Council on the Arts, administered regionally by the Arts Council of the Southern Finger Lakes. We also rely on donations from generous people. Valley Folk welcomes businesses to help Valley Folk financially in exchange for advertising.
Some of our favorite links...
Music
The Fiddler's Gathering on the Web and on Facebook
Michael Ludgate's Canaan Institute on the Web and on Facebook
Old Songs on the Web and on Facebook

Folk College on the Web and on Facebook

Pickin' & Singin' Gatherin' on the Web and on Facebook

Golden Link on the Web and on Facebook

The Cranberry Coffeehouse on the Web

Radio Programs
WVBR's Bound for Glory on the Web and on Facebook

WSKG Free Range Folk Show on the Web

Mike Harding BBC Radio Show - podcast of archived episodes.

U. Utah Philips radio show - archived episodes.
Fine & Performing Arts
The ARTS Council of the Southern Finger Lakes on the Web and on Facebook
Jim Harper Designs on the Web and on Facebook
Tourism
Steuben County Conference & Visitors Bureau on the Web and on Facebook
I Love NY on the Web and on Facebook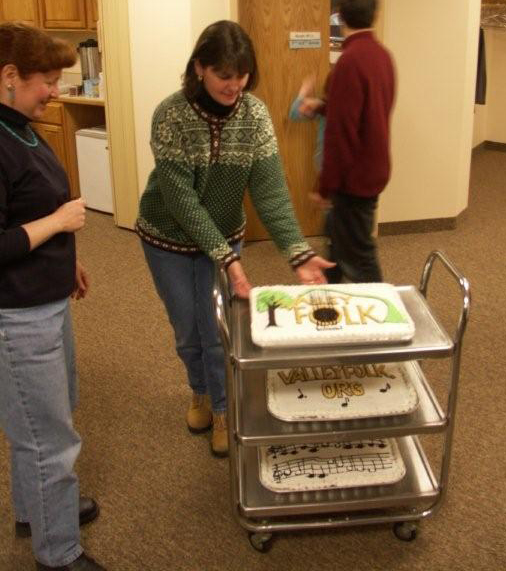 Michelle Halperin wheeling cakes she baked to help us celebrate our logo and website.